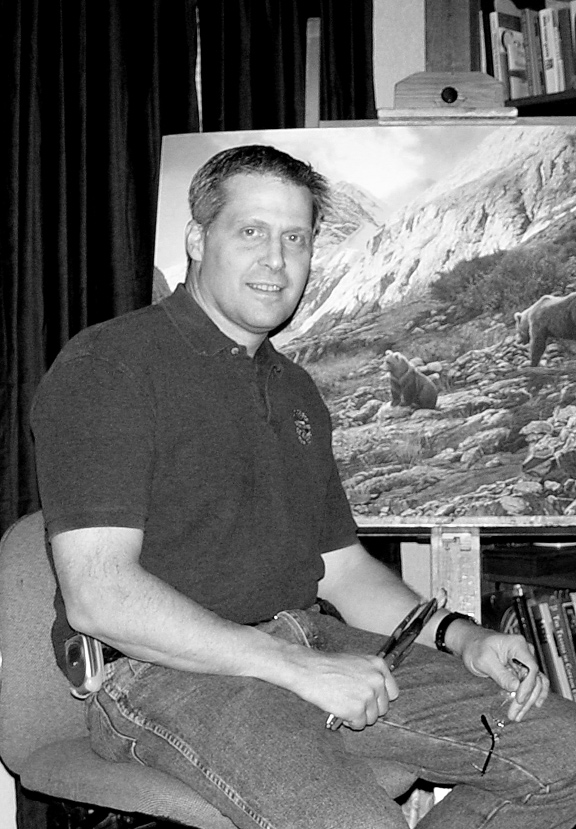 ---
After moving to Alaska in 1975, Charles Gause fell in love with the unsurpassed beauty and uniqueness of the "Great Land". His travels to the four corners of this immense state have supplied him with endless artistic ideas to explore with watercolors, oils and acrylics. Charles hopes to share the beauty and wonders of Alaska with you, through his paintings. His work is collected by a growing group of admirers worldwide and original paintings are in the permanent collections of such corporations as Cominico, Maersk-Sealand, Alaska Airlines and ARCO.
Charles was born in Yakima,Washington, USA, in 1955. His parents moved around the state a few times while he was under 4, then returned and settled the family in the Yakima Valley. When he was 5 the family left the city and moved to a big house in the country surrounded by orchards and pastureland. Charles exhibited a love for drawing and painting from an early age. He looked forward eagerly to the "Learn to Draw with John Knagy" television show each Saturday morning. As he grew, his parents encouraged his artistic endeavors and in the footsteps of his boyhood hero "Peanuts Creator", Charles Schultz they enrolled him in the Art Instruction Schools of Minneapolis, MN, correspondence course while he was in high school.
Continuing his interest in art by studying art history, design, and drawing at a
local college
, Charles' work attracted the attention of his art teachers who encouraged him to pursue his talent. Soon after leaving college and working on some local construction jobs, Charles sold his belongings and moved north to
Fairbanks
, Alaska in the spring of 1975. He found construction work locally for a month or so and then secured a job on the north slope of Alaska during construction of the
Trans-Alaska pipeline.
Although the seven day a week 12 hours a day work schedule left little free time, Charles still managed to squeeze in a little watercolor painting, metal engraving and cartooning. He fell in love with the sweeping vistas and dynamic mountain ranges he saw, along with the abundant wildlife.
After a year with little rest Charles was ready for a change, he left the north slope and moved back to Fairbanks in the spring of 1976. Along with his future wife Joyce and a pipeline buddy, he launched into a more creative endeavor,
cutting, polishing and engraving pieces of pipeline steel, and mounting them in frames to sell to pipeline workers. This provided a more restful pace than the previous year and along with the long days of 24 hour sunshine , warm summer weather and midnight volleyball games, caused Charles' artistic creativity to be renewed. During the summer of 1976 he engraved Alaska's animals and other Alaska themes on nearly 100 mirror polished maps of Alaska cut from Pipeline steel scraps. Still, Charles felt that he was missing something and his dreams of becoming an established artist in traditional mediums seemed out of reach.
At the end of the summer of 1976, Charles returned for a visit back to Yakima. On his way to his hometown, he had a run of bad luck with his car and also became quite sick. When he got to Yakima he narrowly escaped a life threatening situation. It was at this time, Charles' older sister Linda prevailed upon him to consider commiting his life to Jesus Christ. Reluctantly and with only a glimmer of hope that anything would happen, Charles agreed to pray with her.
That simple prayer in the front seat of his sisters car, revealed to Charles that he had underestimated the power of his sister's prayer of faith. Charles described his experience as not unlike that of the Apostle Paul, when soon after his conversion, the scales fell from his eyes and he regained his vision. It was after that experience that Charles says he began to see nature and creation in a whole new light, and that not until he experienced the power of the Love of God , had he truly been able to appreciate all that he was seeing.
Soon after his encounter with Christ, Charles proposed to Joyce. She also had felt something lacking in her life and being impressed with the change she saw in Charles, and in her recently converted older brother, invited Christ into her heart also. Charles and Joyce have been committed Christians ever since.
Returning to his watercolors Charles began to paint Alaskan scenes and wildlife. He felt like he had been given a fresh chance and he wanted to use the talent God had given him. The paintings shown on these pages along with many other unpublished works, are the results and the begining of the fulfillment of his aspirations. Charles has over 100 limited edition prints out now, most of which have reached "Sold Out" status.
Charles and Joyce moved just outside of Anchorage in 1989 to beautiful
Eagle River,
Alaska and have three grown children and four grandchildren! Along with his painting Charles enjoys playing handball, golfing, waterfowling, and boating.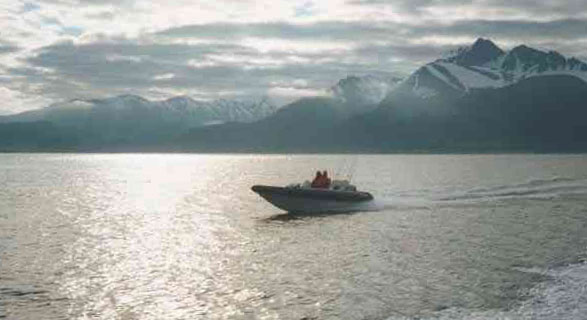 Charles and Joyce out getting some ideas for the
---